 All classes will start on September 6th
Groups
Age
Day/Time
Price

Beginners


Ballroom/Latin
5-7
Monday/Wednesday
5.00-6.00 pm
265$ for 15 classes
(2 times a week)

Beginners


Ballroom/Latin
6-10
Sunday
12.00-1.00 pm
160$ for 8 classes
(2 months)

Beginners


Ballroom/Latin
6-10
Friday
6.30 - 7.30 pm
160$ for 8 classes
(2 months)

Pre-competitive


Ballroom/Latin
6-8
Tuesday/Thursday
5.00 - 6.00 pm
265$ for 16 classes
(2 times a week)

Competitive


Ballroom/Latin
8-12
Tuesday/Thursday
6.00 - 7.00 pm
265$ for 16 classes
(2 times a week)

Competitive


Ballroom/Latin
10 - 18
Monday/Wednesday
6.00 - 7.30 pm
350$ for 16 classes
(2 times a week)
Registration via email: info@udanceart.ca
Ballroom and Latin
(Dance Sport For Children)
Ballroom: Slow Waltz, Tango, Viennese Waltz, Quickstep, SlowFox
Latin: Samba, Cha-cha-cha, Rumba, Jive, Pasodoble

>
Trainers
Evgenii and Natalia Filatov

Professional dancers and dance teachers who have won medals and cups at many international dance competitions.
Winners and prizes:
England, WDC Blackpool Dance Festival SL(Senior Latin) - 2 place
France, WDC World Open SL - 2 place
Belgiium, WDSF Open SL - 1 place
Finland, WDSF Open SL - 1 place
Russia, National Championships SL - 2 place (3 times) and 3 place
Spain, WDSF World Championship SL - 4 place
Spain, WDSF Open SL - 1 place and 2 place
Austria, WDSF Open SL - 3 place
and many others.

During their career they have trained over 2000 dancers of all ages.
Dress code for classes

For beginners (children)

- ballet flats, slippers or jazz shoes
- a t-shirt and shorts for a boy,
- a leotard and a skirt for a girl.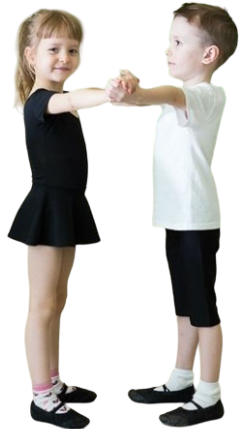 Dress code for classes

For Pre-Competitive and Competititve
(children)

- dance shoes,
- t-shirt and trousers for the boy,
- t-shirt or leotard with skirt for the girls